Shirley
Thanks to the movies, you have heard about a "horse whisperer". Well, Lindy Nolan does magic with dogs, and is a "dog whisperer". She transformed our dog, Duke, from a biting, slightly aggressive toy poodle, with a mind of his own, into a sweet, loving, non-biting companion in just two visits. Her telepathy with dogs is amazing. We finally have a more perfect pet, thanks to the exceptional talent of Lindy Nolan, the "whisperer" who has 30 years experience. With best wishes for you to have an equally successful experience, Dr. Shirley Glickman.

Buddy Crain
Thanks for taking such a great picture of me with my handler (Sandy).
Both she and I learned a lot at Puppy Kindergarten and Middle School. We just have to make sure that we continue practicing all the behaviors and cues you taught us.
Just as we learned about Nolan Obedience School from one of our friends, we will also tell our new friends about you as well.
Sincerely, Buddy Crain

Susan Lee
After spoiling my first dog rotten,  I was determined that my "second child", Gatsby, would be a well behaved dog.  I investigated numerous training programs in the area and chose yours because of the "pawsitive" approach, chance for Gatsby to interact with other dogs and for the opportunity to bond with the puppy.
I can honestly say that at 4 months of age, Gatsby is already better adjusted than my previous dog.  Although the breeder told me that I could teach him myself, I know that I would not have had the discipline without your homework assignments.
Your approach had worked well – it is amazing to me how quickly he learned sit, stand and down with the click and treat method.  I also really appreciate the tips that you dispense during the class such as the greyhound collar and the Oxyfresh oral care products.  The books you recommended were very helpful and I refer to them often.
It is obvious that you truly care about animals.  My key learning from the puppy kindergarten class has been how to think like a dog!  Thank you for your support.  I would definitely recommend your training program and Gatsby and I look forward to taking more classes in the future!

Mike and Suzie Bojarski
We cannot thank you enough for your help with our dogs.   We see a great improvement in their behavior with each other.  Lucky can now be in the same room with Lilly, and we can interact as a family, without the tension.
We feel that the obedience class will help little Lilly, and can't wait to start.  See you then. Thank you.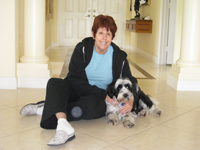 Barbara, Bill, Lucky and of course Tucker Cruciata
When we first got Tucker, our 2 year old Tibetan Terrier he seemed very laid back. After a few weeks he became like Cujo when anyone entered our home. He even went after our other Tibetan Terrier, Lucky. Lindy came to our rescue. She was instrumental in showing us"pawsitive" techniques with Tucker and also changing the way we reacted to Tucker's behavior. Tucker is doing so much better and is well on his way to becoming a well behaved part of our household.
Thank you so much Lindy!
Fondly,
Barbara, Bill, Lucky and of course Tucker Cruciata